Artisan Designed

" My design purpose is only realized when it connects with the wearer." - Alex
Everyday Joy

"The nicest compliment I can receive is when a piece is worn with joy every day like a favorite pair of jeans." - Alex
Artisan Designed
" My design purpose is only realized when it connects with the wearer." - Alex
SHOP NOW
Everyday Joy
"The nicest compliment I can receive is when a piece is worn with joy every day like a favorite pair of jeans." - Alex
SHOP NOW
Pairs nicely with you!
Collections include necklaces, earrings, bracelets, rings and sometimes more!  Pick and choose for an outfit or rock the whole set for the right look anytime.
Shop All Products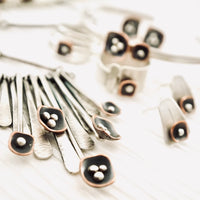 Free US Shipping on Orders of $75+ | Easy Returns!
All orders $75 or over are shipped USPS First Class Mail at no cost to you!  Typical delivery time is 2-5 days. For orders under $75, there is a flat $6 rate. Other shipping options with faster times and additional cost are available at checkout. Need to return or exchange? Simply contact us and let us know! We are always here to help.
Shipping Info
our customers say
I love both new pairs of earrings. I am so excited to see your studio and read about you in the spring addition of Where Women Create. Congrats! I love everything you make and the way it comes to me is so thoughtful. I will continue to purchase your beautiful pieces of art. Thank you!

Tonie
Everything I own from Alex a Mano is unique, long-lasting, and high quality. I usually struggle to find jewelry to accessorize my daily outfits, but my Alex a Mano pieces are perfect. They've lasted me years, and are truly one-of-a-kind…I get so many compliments every time I wear my earrings and necklace!

Sofi S.
I have been a customer of Alex a Mano and Terra Nostra Jewelry over many years. The artistry and attention that is given to each piece is exceptional and the customer service beyond compare. Your piece will be crafted by a true artisan.

John A.
If you're looking for beautiful, organically-inspired, quality, handcrafted jewelry look no farther!  Alex is not only a talented artist, but embodies the true spirit of an independent business owner.  I needed a present for a friend's birthday, so I sent Alex a request for fast shipping and gift wrapping. She responded within minutes, offering to gift wrap and to add a note at no extra cost (she even sent me photos of the final package). That personal touch made all the difference. I will definitely purchase from Alex again!

Jenna P.
Shopping with Alex on Zoom is so much fun!  I've missed going to her store and trying Terra Nostra jewelry in person.  And I've missed seeing Alex!  I'm so glad she started offering personalized video shopping.  During my Zoom shopping appointment, I could see the jewelry in different light, and Alex modeled a number of earrings and necklaces for me!  I almost felt like I was in her store.  I purchased a few pieces and love all of them!

Cynthia S.
When I was opening the package I felt like it was a gift from a friend: wrapped so beautifully and with a personal note. I know, for a lot of people it is not important, but I appreciate such gestures and it feels more special and festive. It arrived earlier than expected, which was a nice surprise. I love the design and I wear the necklace every day. It is a true sign of artistry and paying attention to details. It makes a piece luxurious and exceptional. It is so rare nowadays. 

Kasia C.
Alex has such a good eye for details, everything fits and hangs perfectly. Each piece is unique and makes you feel like it was made just for you. She is also lovely to do business with and I'm delighted to build a relationship with her!

Lucia S.
Perfect for gift giving! The presentation is a gift in itself. The recipient called me in tears (of gratitude) before she even tried it on. I bought several necklaces for myself and I am always amazed that every link and component is handmade. 

Cindy K.
I have a lot of Alex' earrings from Terra Nostra and these are my first from the Square Pods collection. I love them all but these are my favorite! They are "everyday" earrings but they also look great with dressier outfits. They are so well made they will last a lifetime. Thanks, Alex!

Lauren E.